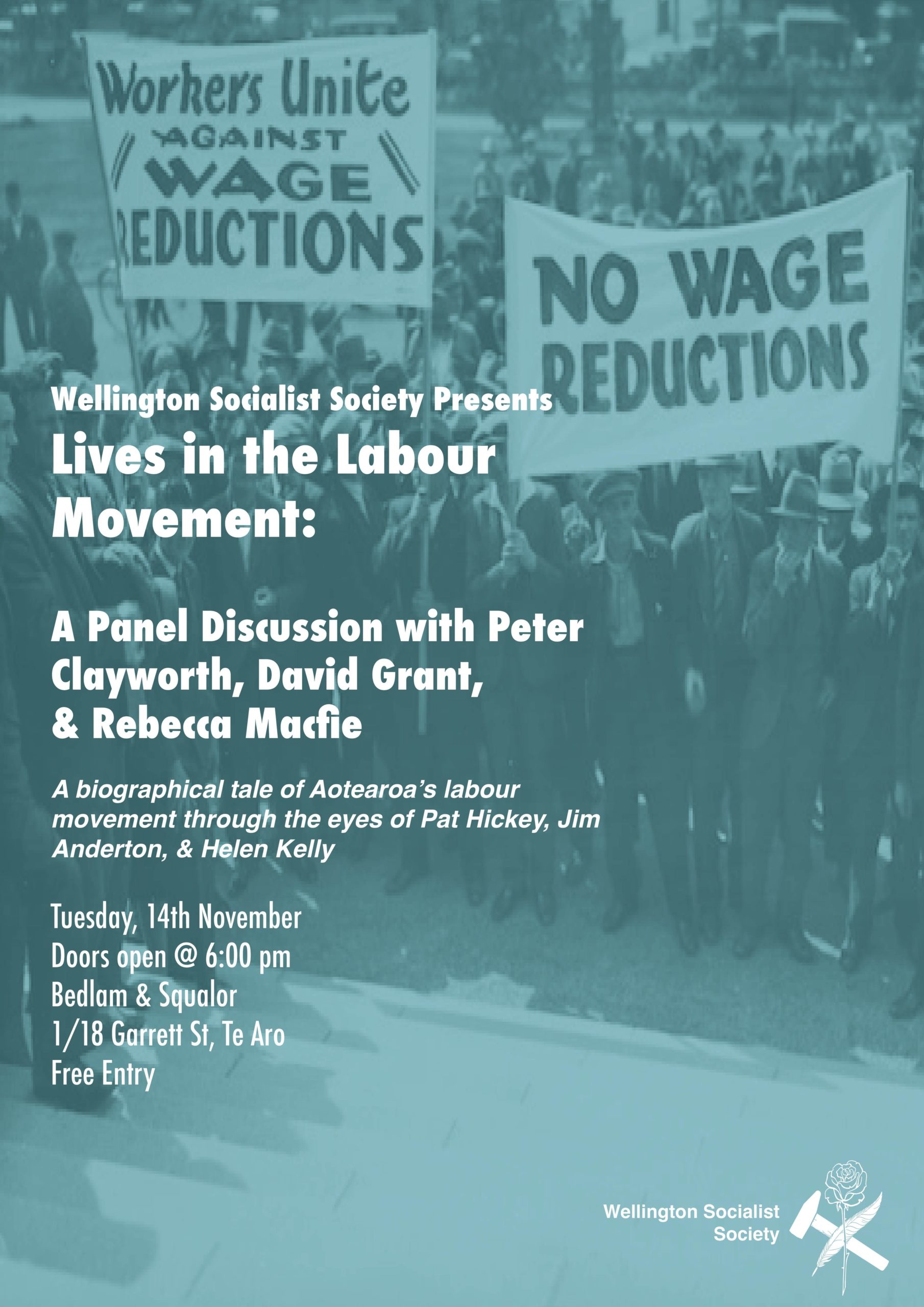 In this panel discussion, the Wellington Socialist Society brings together three biographers of influential labour movement figures in Aotearoa. Two of these biographies were recently published, and one is soon to hit the shelves. Each author will give a brief overview of the life and career of their subject, followed by a question-and-answer session moderated by the Socialist Society.
Peter Clayworth will speak to his upcoming biography of Pat Hickey, a trade unionist who was a leader in the Blackball Miners' Union during the famous 1908 Blackball Strike and was subsequently influential in the Federation of Labour – the so-called Red Feds.
David Grant will talk about Jim Anderton, who was the Labour Party President from 1979 to 1984 and a Labour MP from 1984 to 1989, before becoming the renegade leader of the NewLabour, Alliance, and Progressive parties.
Finally, Rebecca Macfie will speak about Helen Kelly, the daughter of well-known communist activists Pat and Cath Kelly, who became the first female leader of the Council of Trade Unions in 2007.
The lives of these three figures offer a fascinating window into the history of the labour movement across the 20th and early 21st centuries. Though their ideas and approaches may have differed, all three were united in the belief that the goal of the labour movement is to advance the interests of workers.
—————————————————————————
Peter Clayworth has worked as a professional historian since 1999. He comes from a family of mechanics in Stoke, Nelson, but having no mechanical ability had to seek his fortune elsewhere. He has worked for a number of government departments and as a private contractor. He currently works for Te Arawhiti – The Office for Māori Crown Relations. Peter has been a committee member of the Labour History Project since 2006 and was involved in organising centenary events commemorating the 1913 Great Strike. He has had a number of articles published internationally on aspects of labour history and is working on a biography of Red Fed activist Pat Hickey. Peter lives in Wellington.
David Grant became a professional historian in 1991, following careers in journalism and secondary school teaching. He has authored 14 books, including three biographies, and more than 70 articles for a range of historical publications. David is a founding executive member of the Professional Historians' Association of New Zealand, a life member and former chair of the Labour History Project, and a trustee and secretary of the Collective Media Trust. His book Anderton: His Life and Times was published in 2022 by Te Herenga Waka University Press. He lives in Wellington.
Rebecca Macfie is an award-winning journalist. She has worked or written for a range of publications including New Zealand Listener, The Business, Unlimited, National Business Review, The Christchurch Star, The Independent Business Weekly, Safeguard, Employment Law Bulletin, and North & South. She is the author of the multi-award-winning book Tragedy at Pike River Mine: How and Why 29 Men Died, which has been updated and reprinted nearly every year since 2013. Her book Helen Kelly: Her Life was published in 2021 by Awa Press. She lives in Christchurch.
—————————————————————————
Proceedings:
6:00 pm – Doors Open
6:30 pm – Introductions
6:40 pm – Panel Begins
7:20 pm – Intermission
7:30 pm – Audience Q & A
For those unable to attend we will have a live stream on the Wellington Socialist Society Facebook page.
Drinks and food will be available to order from the bar. As always we are thankful to Bedlam & Squalor for hosting us.
Details
Starts On
November 14, 2023 - 6:00 pm
Ends On
8:30 pm
Event Categories