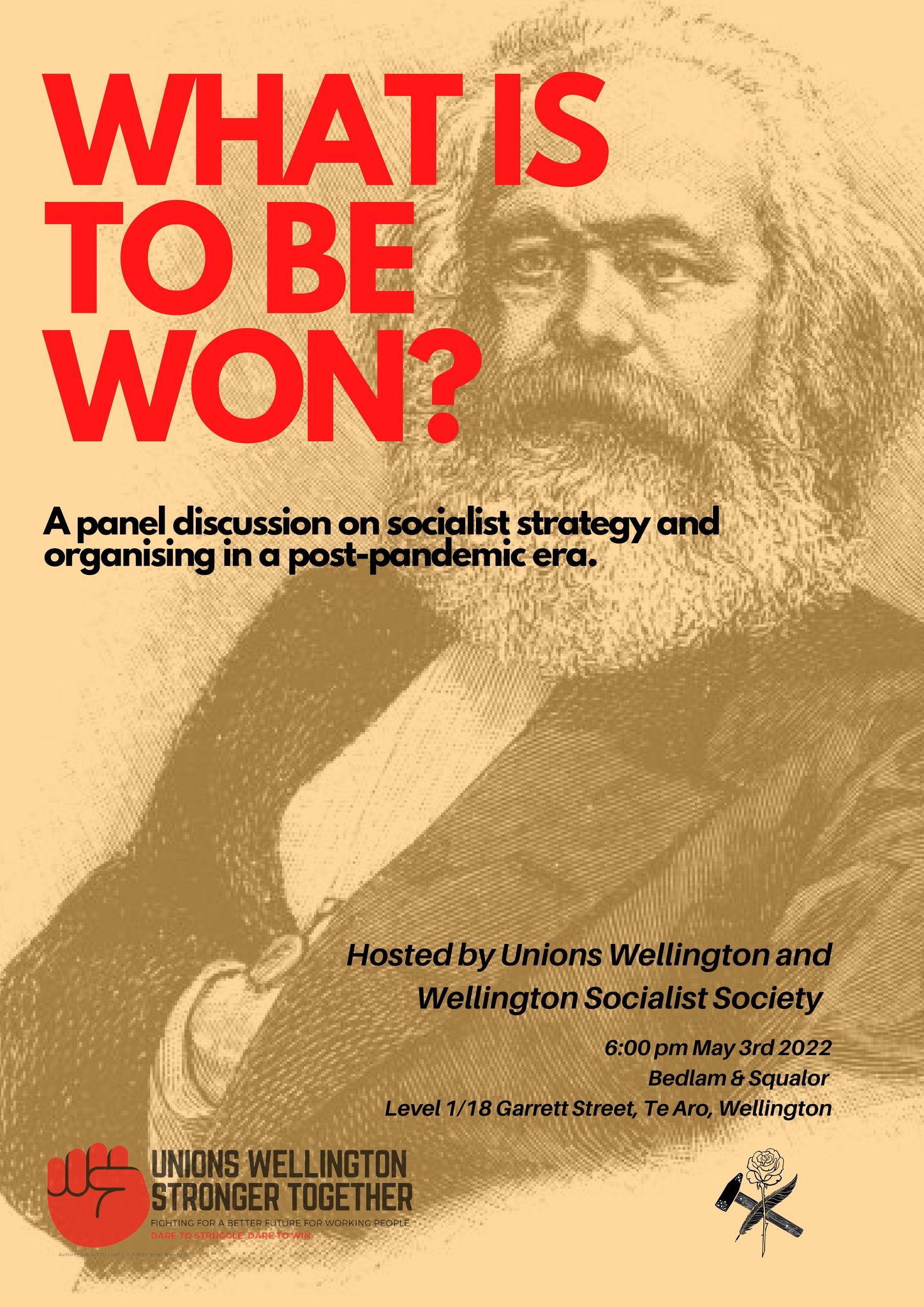 Kia ora, comrades.
On May 3rd, Unions Wellington and the Wellington Socialist Society will co-host a panel discussion on socialist strategy and organising in a post-pandemic era at Bedlam & Squalor.
This will be our May Day event for 2022. Two years of the pandemic has seen limited opportunities for those on the left in Aotearoa to gather.
Both Unions Wellington and the Wellington Socialist Society see that providing those on the left with a space to discuss our future and "what is to be won", as vital in building a stronger left in the post-pandemic age.
Our panelists come from a range of backgrounds and will provide unique insights into what they view as the current state of the left and where they think we need to be moving in the coming years.
Once the panel have had their chance to speak, our MC for the night will take some time to ask the panelists some questions, and then we will open up the mic to our guests to ask questions of the panel.
The Program:
6:00 pm – Doors open
6:30 pm – Introductions led by Union's Wellington & WSS
6:40 pm – Panel Presentations
7:20 pm – MC question time
7:40 pm – Open floor for guests to ask panel questions
8:15 pm – Official End of Event (guests are more than welcome to hang around for a pint and a chat after the event)
Covid-19 at Orange Light Settings:
Key points are
You do not need a My Vaccine Pass.
You do not need to wear a face mask at indoor or outdoor hospitality venues.
There are no limits on the number of people who can be at the venue — either indoors or outdoors.
You do not have to be seated to be served.
Please do check out the website here for more information on the rules of the Orange setting. (
https://covid19.govt.nz/…/hospitality-venues-at-orange/
)
Details
Starts On
May 3, 2022 - 6:00 pm
Ends On
8:30 pm
Event Categories