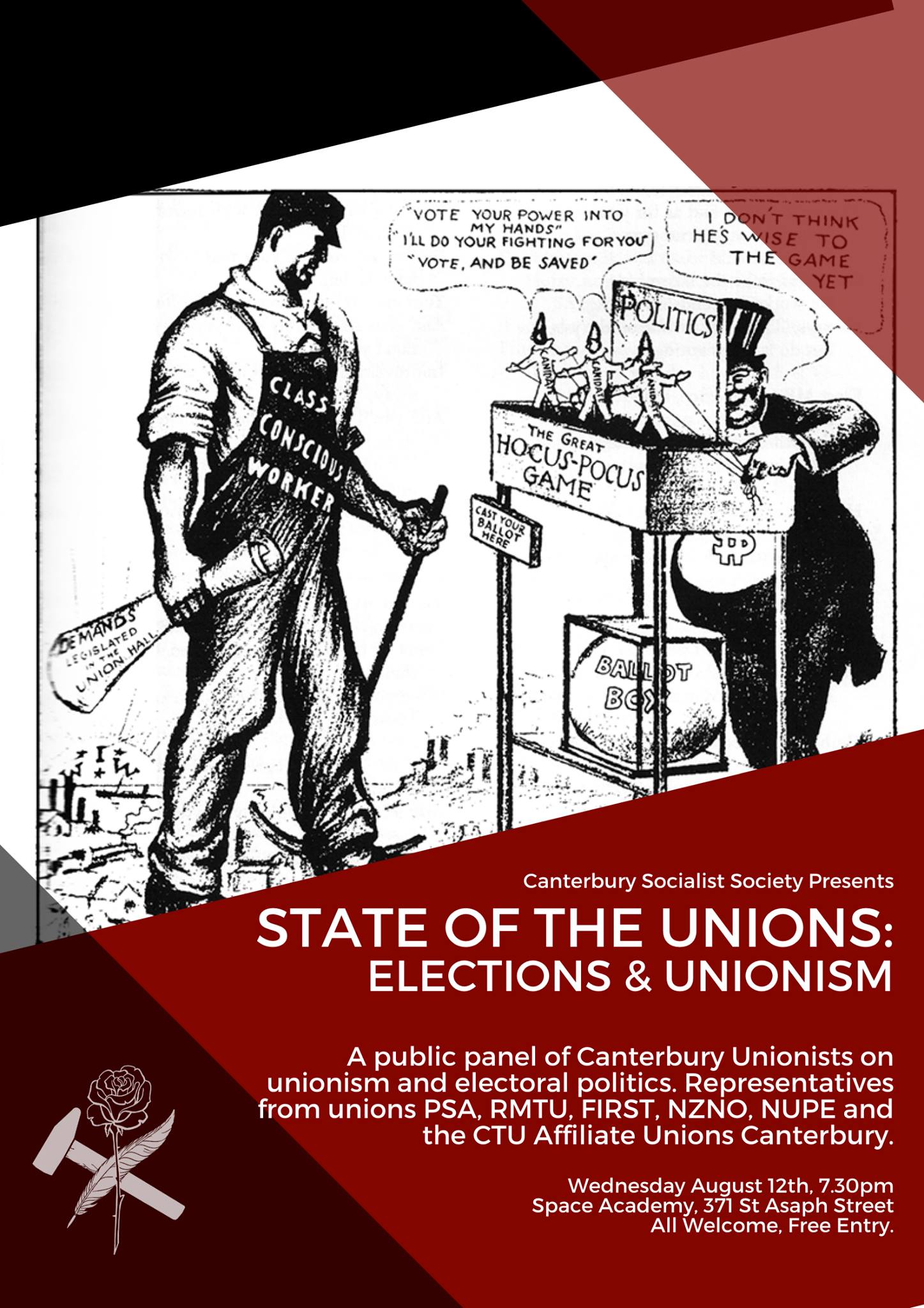 "…against this collective power of the propertied classes the working class cannot act, as a class, except by constituting itself into a political party, distinct from, and opposed to, all old parties formed by the propertied classes; That this constitution of the working class into a political party is indispensable in order to ensure the triumph of the social revolution and its ultimate end — the abolition of classes."
– Karl Marx (1871)
"The executive of the modern state is nothing but a committee for managing the common affairs of the whole bourgeoisie"
– Karl Marx (1848)
For our second annual "State of the Unions" panel we have invited local unionists to discuss elections and unionism. Often a contentious issue, trade unions have had a variety of relationships with political parties at different times and in different conditions. Very few unions in New Zealand today are affiliated to a party, but nonetheless adopt an electoral strategy to pursue what is measured to be the best interests of their members/the working class.
Socialists too have had a variety of positions: from absolute abstention from voting for or running candidates, to propaganda campaigns, through to earnest attempts to win political power through the ballot box once workers suffrage was achieved.
This will be an opportunity to discuss electoral strategy and class in the lead up to the General Election in September.
Our panelists are:
Quentin Findlay – National Union of Public Employees – NUPE
Anthony Rimell – Public Service Association
Heiner Benecke – RMTU Lyttelton Branch Secretary
Moniqua Reid – First Union
Danielle Davies – New Zealand Nurses Organisation/Unions Canterbury
All are welcome, free to attend. Beer, tea, coffee, (and other drinks) and food available to purchase from Space Academy.
Details
Starts On
September 23, 2020 - 7:30 pm
Ends On
10:30 pm
Event Categories
Canterbury, Events, Panel Discussion
Event Tags
Canterbury, First Union, NUPE, NZNO, panel discussion, PSA, RMTU, State of the Unions, Unions Canterbury