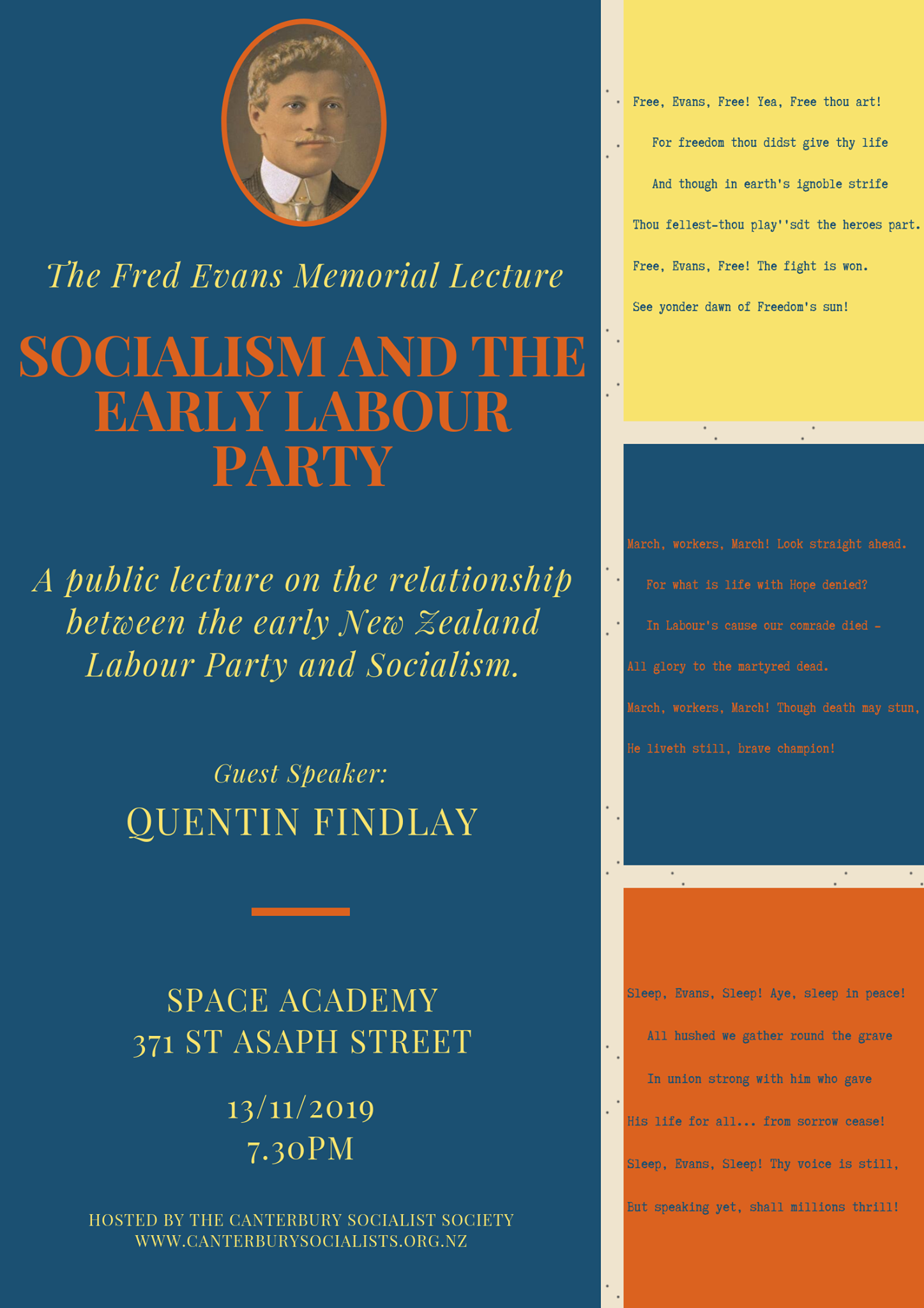 The Canterbury Socialist Society is excited to announce our first annual Fred Evans Memorial Lecture. For this lecture we invite a theorist, organiser, or other person of interest to speak on a topic pertaining to their expertise.
Fred Evans was a prominent unionist during a pivotal moment in New Zealand labour history – the Waihi Miner's Strike of 1912. A member of the Waihi Trade Union of Workers, affiliated to the militant New Zealand Federation of Labour (also called the Red Feds), Evans is one of the few in the history of industrial disputes in this country to have been martyred. We host this lecture in his honour, and raise a glass to all workers in our common cause – whether a century ago or today.
———————————————————————————
"We of the Labour Party come to endeavour a change of classes at the fountain of power. We come proclaiming boldly and fearlessly the Socialist objective of the labour movement throughout New Zealand; and we make no secret of the fact that we seek to rebuild society in which work and wealth should be the measure of a man's worth."
– Harry Holland during his maiden speech to the House of Representatives in 1919.
Our guest speaker Quentin Findlay recently earned a PhD from Lincoln University on the topic of the socialist influence on the early New Zealand Labour Party, and the interaction of ideology with the formation of policy between 1916 and 1935.
Policies in this period shaped the course of the 20th century, and many are still significant today. Quentin's research focuses on whether ideological commitment to socialism was a driving factor in the keystone politics pursued by the Labour Party at the time.
Quentin is a trade unionist and lives in Canterbury.
———————————————————————————
A brief dedication to Fred Evans will be provided by Tom Roud of the Canterbury Socialist Society. The meeting will be chaired by Sionainn Byrnes also of the Canterbury Socialist Society. All are welcome to attend, and we encourage any with an interest in this topic to spread the invitation far and wide.
As always we are thankful to Space Academy for hosting us.