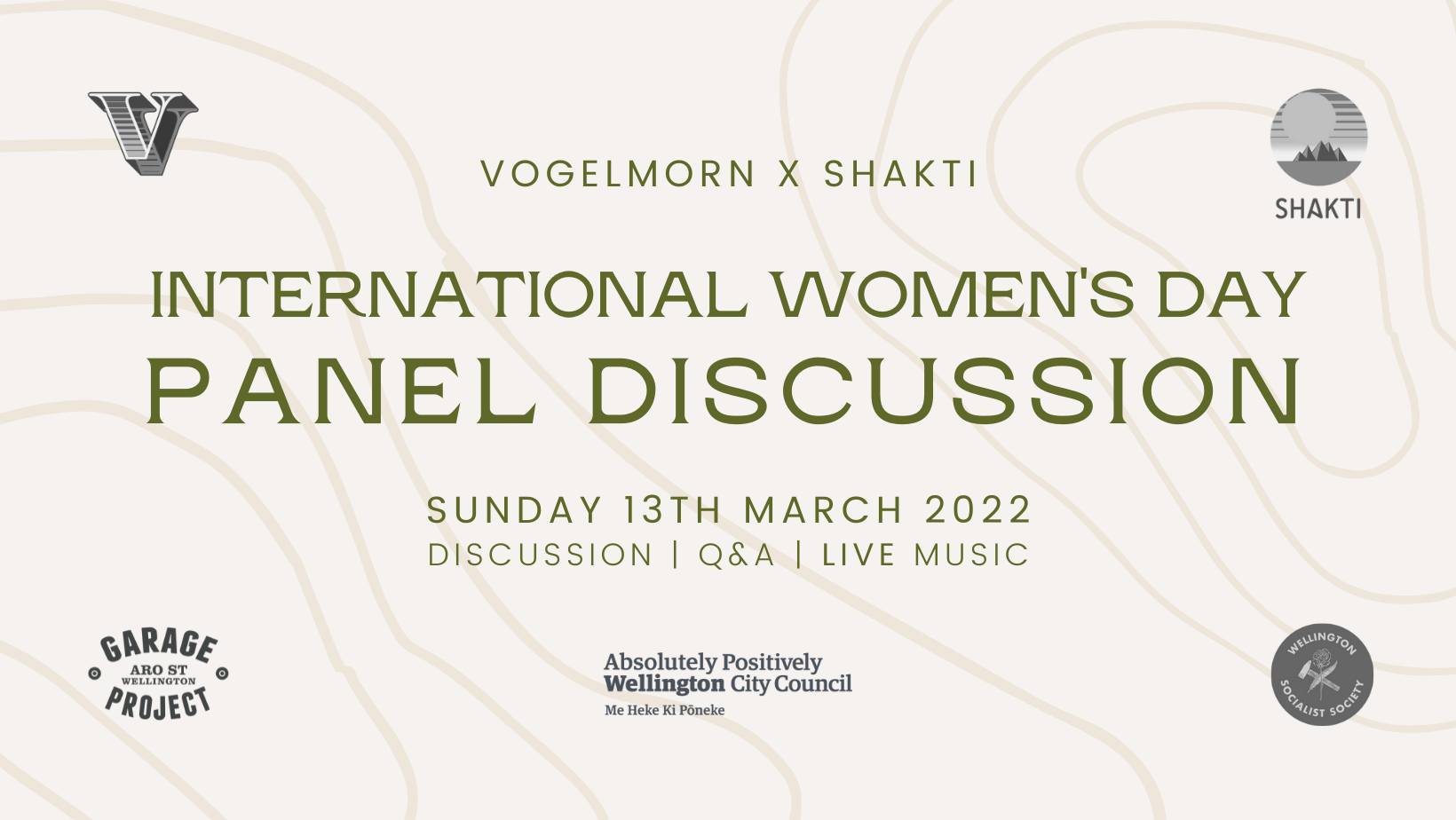 INTERNATIONAL WOMENS DAY | LIVE MUSIC BY RACHEL ANDIE | DRINKS & LIGHT SNACKS INCLUDED | 50% TICKET SALES DONATED TO SHAKTI NZ
Kicking off at 11am with a Panel Discussion, moderated by the epic Maggie Tweedie (of RadioActive), the panel will discuss all things 
#breakingthebias
 within the workplace. We are super excited to have the following four awesome panellists lined up for the discussion:
NIA BARTLEY
PSA Union Delegate – currently on 3 PSA governance committees; DHB Sector Committee, Women's Network Wellington; Wellington Regional Rep; and Pasefika Network Committee. Advocate for Equal Pay, and an elected member of the Council of Trade Unions, Komiti Pasefika Co-convenor, to name a few.
SABINA RIZOS-SHAW
A trade unionist and artist from Wellington. While working in severval small retail businesses she became a FIRST Union delegate, being involved in various efforts to improve working conditions and advocate for colleagues. She is now a full time PSA Union Organiser, and a committee member of Unions Wellington. Sabina has also hosted many different projects at galleries across the capital and is a curator, facilitator and board member at MEANWHILE gallery, an artist run space on Willis Street.
FRANCESCA STOREY
Senior Research Fellow with Te Tātai Hauora o Hine (National Centre for Women's Health Research Aotearoa) at Victoria University of Wellington working with Professor Bev Lawton and their Iwi partners. With a background in neonatal intensive care and remote area nursing, Francesca is a named investigator on a number of research projects involving Indigenous-led solutions to eliminate preventable harm and death for wāhine and pēpi including the offering of a Human Papillomavirus (HPV) self-test to reduce cervical cancer. Francesca is part of the International Research Group for Indigenous Women's Health.
ADAIRE HANNAH
Communist, unionist, recently retired teacher.
An active participant in New Zealand and Australia Women's Movement from 1970.
She was an active member of WONAAC from the early 1980s and participated in the fight for a private members bill to legalise abortion in the early 1990s. She was also a member of Choice which organised defence demonstrations in response to anti-abortion activists trying to prevent women from entering the Wellington abortion clinic.
As a fighter against all forms of oppression she has recently stood beside Trans people as they have been attacked by organisations such as SUFW.
While she has been involved in several unions over her working life her main political activity in the union movement was in the NZEI and PPTA. A key union campaign she was involved in was the fight against the National Government's savage attack on Adult Community Education.
Following on from this discussion, we will have a Question and Answer session, where audience members will be able to ask our expert panel any burning questions they may have.
To finish, we'll enjoy conversation, light snacks, a drink (inclusive in ticket price) and some live music by special guest Rachel Andie!
This is going to be a very special event and spaces are limited – so be sure to book your spot before spaces run out!
All are welcome, those under 18 will need to be accompanied by a legal guardian.
Ticket prices include light snacks and a beverage.
50% of ticket sales will be donated to Shakti NZ – a national not-for-profit community organisation specialised in the area of women's development, empowerment and domestic/ family violence intervention, prevention and awareness.
Details
Starts On
April 10, 2022 - 11:00 am
Ends On
April 11, 2022 - 3:00 pm
Event Categories