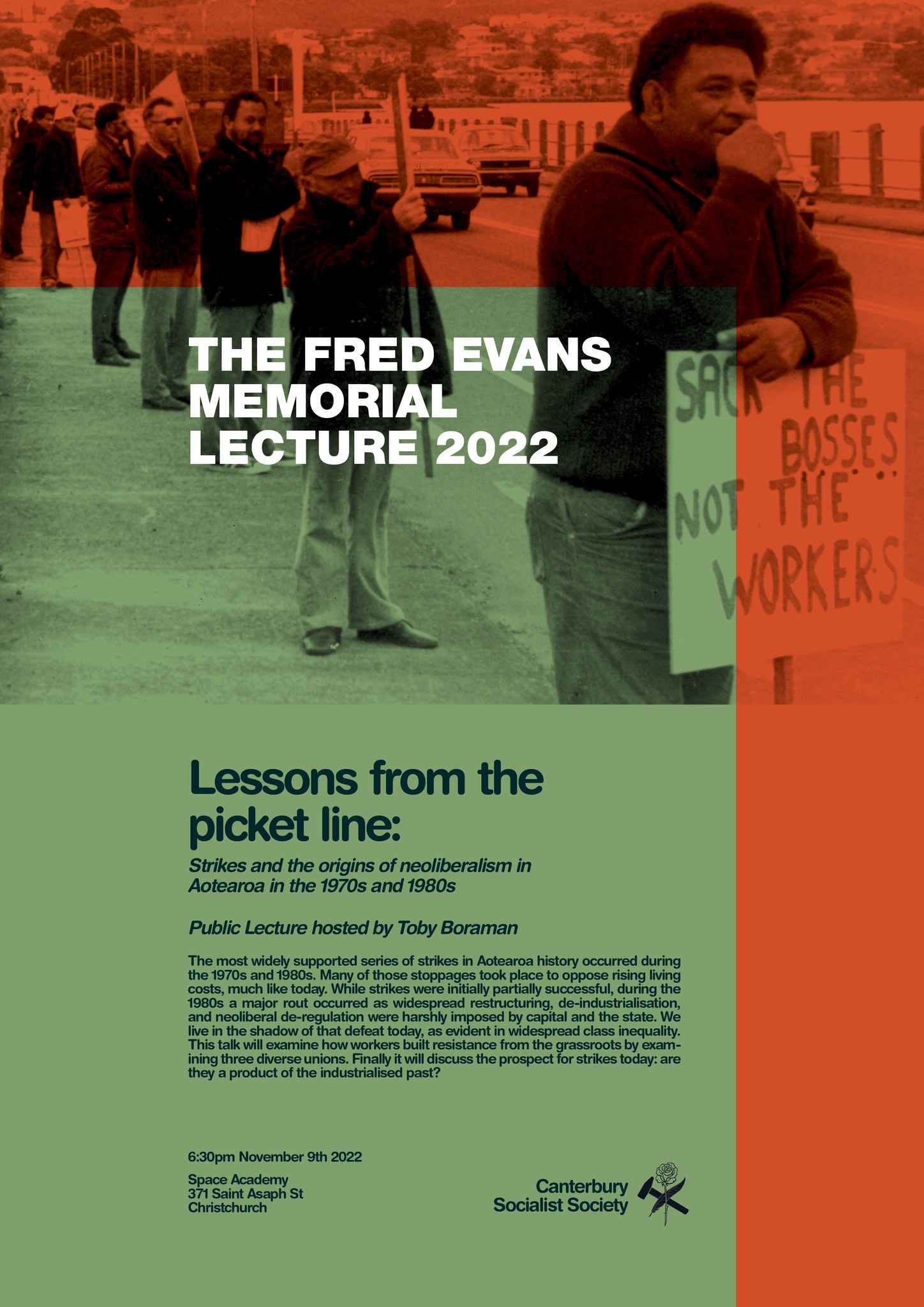 Strikes and the origins of neoliberalism in Aotearoa in the 1970s and 1980s.
The Canterbury Socialist Society is pleased to confirm our 2022 Fred Evans Memorial Lecture. For this lecture we invite a theorist, organiser, or other person of interest to speak on a topic pertaining to their expertise.
Fred Evans was a prominent unionist during a pivotal moment in New Zealand labour history – the Waihi Miner's Strike of 1912. A member of the Waihi Trade Union of Workers, affiliated to the militant New Zealand Federation of Labour (also called the Red Feds), Evans is one of the few in the history of industrial disputes in this country to have been martyred. We host this lecture in his honour, and raise a glass to all workers in our common cause – whether a century ago or today.
——————————————————————————
The most widely supported series of strikes in Aotearoa history occurred during the 1970s and 1980s. Many of those stoppages took place to oppose rising living costs, much like today. While strikes were initially partially successful, during the 1980s a major rout occurred as widespread restructuring, de-industrialisation, and neoliberal de-regulation were harshly imposed by capital and the state. We live in the shadow of that defeat today, as evident in widespread class inequality. This talk will examine how workers built resistance from the grassroots by examining three diverse unions. Finally it will discuss the prospect for strikes today: are they a product of the industrialised past?
Toby Boraman is a lecturer in Politics at Massey University. His research has focused on social movements, class and inequality, workplace relations and more. Toby is influenced by heterodox marxist thought, particularly early autonomism, and is a staunch proponent of 'history from below'. It is our great privilege to welcome him to Christchurch to deliver this lecture.
——————————————————————————

6.30pm: Doors open – all welcome to mingle and grab some refreshments.
7.00pm: Introduction by CSS member Sionainn Byrnes.
7.10pm: Toby will present on his topic.
We will then break briefly before reconvening for questions. For those unable to attend we will have a livestream on the Canterbury Socialist Society facebook page.
Drinks and food will be available to order from the bar. As always we are thankful to Space Academy for hosting us
6.30pm, Wednesday 9th of November
Space Academy, 371 St Asaph Street
Details
Starts On
November 9, 2022 - 6:30 pm
Event Categories