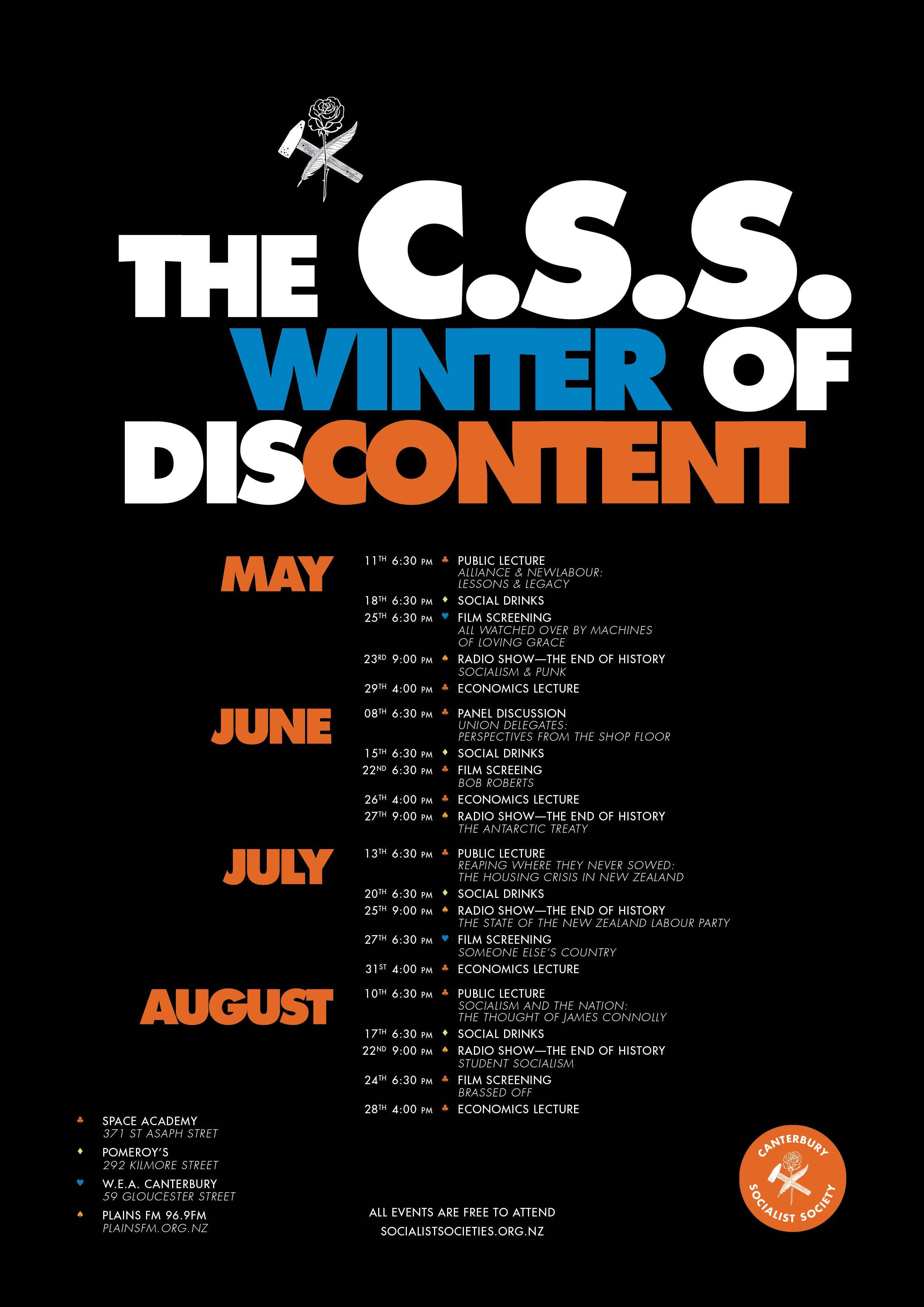 The Canterbury Socialist Society is very excited to announce the schedule for our programme for the next four months (May through August), the "

Winter

 of 

Discontent

". 
To celebrate reaching 100 members in the Federation of Socialist Societies we have organised a minimum of 16 free public events over the next four months. These include: public lectures and discussions, a series of lessons on economics, film screenings, and social events.

If that isn't quite enough content for you, though, don't forget our Radio Show – the last Monday of every month on PlainsFM. C

We would love to see you at as many of the events below as interest you – and hope you will share the word far and wide with friends, family, anyone in your network who may (or may not – we welcome debate) be sympathetic. 
A big thank you to Space Academy for hosting so many of our events, to Nick Robinson for the design work, and to all speakers and facilitators for volunteering their time. It is greatly appreciated.
Public educational lectures: On the second Wednesday of every month we will be meeting at Space Academy, 371 St Asaph Street, from 6.30pm. These events include lectures, panels, and guided discussions on topics including socialist history, the split from the NZ Labour Party in the 1980s and its legacy, and perspectives from rank & file members of unions.
Second Wednesday, 6.30pm: 11/5/22, 8/6/22, 13/7/22, 10/8/22.
Social drinks: On the third Wednesday of every month we meet at Pomeroy's from 6.30pm for a casual drink and open discussion about any topics of interest. Sometimes more politically charged, sometimes largely social, all are welcome to join us (we'll have our banner in case you don't recognise us) for an evening of camaraderie and conversation. 
Third Wednesday, 6.30pm: 18/5/22, 15/6/22, 20/7/22, 17/8/22.
Film screening series: Our film committee has returned with a series of four free film screenings. From documentaries to comedies, from New Zealand and abroad, this series includes a very brief introduction from one of our members about what we are watching and why – as well as a small DIY zine for any attendees who would like one. 
Last Wednesday, 6.30pm: 25/5/22, 27/7/22.
Last Wednesday at Space Academy: 29/6/22, 31/8/22.
Educational series on economics: Quentin Findlay has graciously agreed to run a series of lectures that give an introduction to political economy. Based on a series he's delivered for the Workers' Educational Association, though in this case for a more biased audience, the series promises to be engaging and clarifying for all partisans of left politics looking to improve their economic understanding. These are held on the last Sunday of each month at 4pm, meaning that if midweek is not achievable we do have an alternative.
Last Sunday, 4.00pm: 29/5/22, 26/6/22, 31/7/22, 28/8/22.
All events are free, and all are welcome to attend.